Carlsbad Flower Fields: Immerse yourself in the natural beauty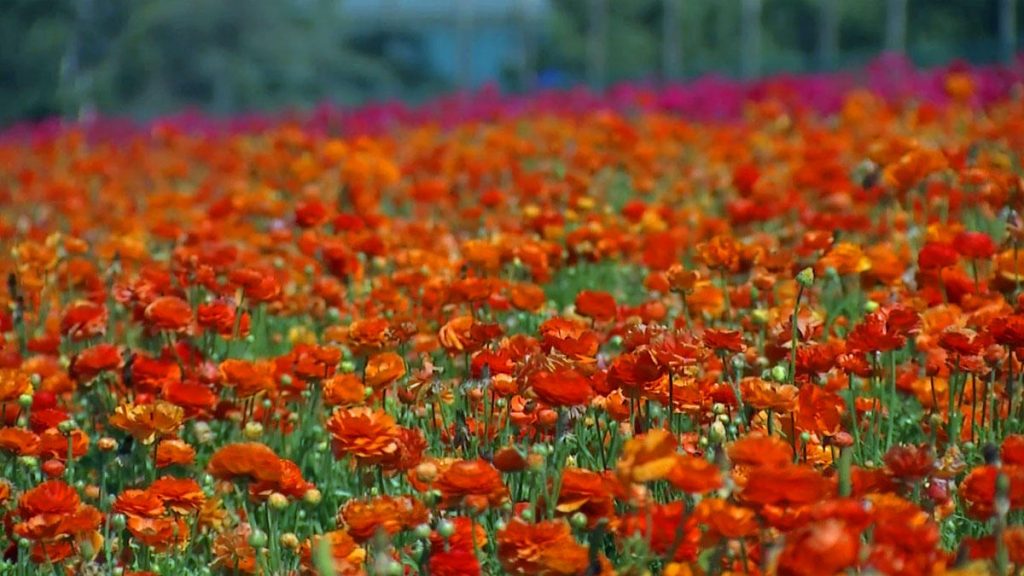 March signifies the arrival of spring. It is the time when San Diego city is bursting with blossoming, colorful flowers. March 1st is the beginning of Flower Fields Ranunculus Season at Carlsbad and it will continue till May 14th, 2017.
During this time, 50 acres of hills get covered with a giant blanket of ranunculus flowers. Imagine losing yourself in the lap of nature and seeing an ocean of flowers as far as your eyes can see!
Carlsbad Flower Fields is the place for the entire family where adults can laze around admiring the natural beauty and kids can run and play around. You can stroll in the beautiful gardens, walk through the fragrant sweet pea maze, check out the miniature rose garden and buy saplings, orchids and gift cards from a gift shop. In short, feel the joy of being among colorful flowers in full bloom overlooking the Pacific Ocean.
If you don't want to walk, you can take the antique tractor wagon ride through The Flower Fields and also listen to the audio commentary telling about the characteristics and history of different flowers.
Are orchids your favorite flowers? Then visit the Cymbidium Orchid Greenhouse. For kids, the Santa's Playground is a great hideout with play houses, Doll House and Crooked Treehouse.
And also make sure to visit the Artist Gardens. Here you will be awestruck as to how artists have created paintings using flowers as medium of art. There will also be American Flag of Flowers where red, white and blue petunias are systematically arranged in the shape of a giant American flag.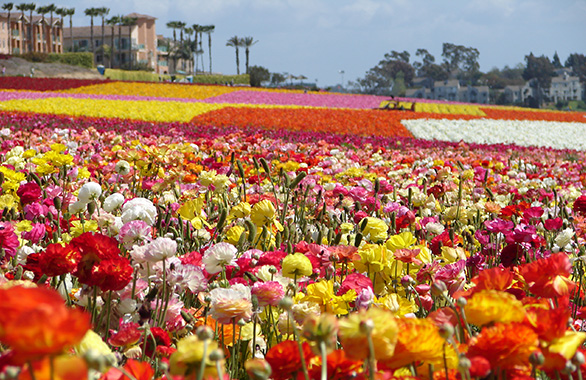 Season: Spring 2017
Hours: Open to the public seven days a week from 9:00 a.m. to 6:00 p.m.
Prices: Adults: $14.00  Seniors 60+: $13.00  Children 3-10 yrs.: $7.00  Children 2 yrs. & under: Free
Season Passes: Adults: $30.00  Seniors 60+: $25.00  Children 3-10 yrs.: $16.00
Wagon Rides: Adults: $5.00  Children 3-10 yrs.: $3.00
The Flower Fields are an alcohol and tobacco free environment. Smoking and alcoholic beverages are not permitted onsite. No Bicycles, hoverboards or drones are permitted.
If you are coming on a San Diego vacation between March and May, do include a trip to the Carlsbad Flower Fields during your stay. Do visit the city during this time and stay in an affordable San Diego lodging.
Located in Clairemont Mesa Blvd; California Suites Hotel is a centrally located San Diego budget hotel from where Carlsbad, beaches and other attractions are nearby. Being an AAA-approved and a member of the San Diego's Chamber of Commerce, California Suites Hotel is well respected for plentiful services which include free parking, continental breakfast, large warm swimming pool, Internet access, safe deposit box, spa tub and more. Stay in California Suites Hotel to enjoy a Convenient, Comfortable and Affordable vacation in San Diego.