Celebrate 4th of July with fun & fireworks in San Diego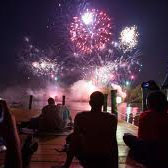 Over the years, various fun-filled summertime activities have become part of the 4th of July celebrations. And the city of San Diego hosts plenty of family friendly events and activities on this day:
Escondido July 4th Celebration and Fireworks
Set to take place on 4th July at the Grape Day Park, Escondido from 4:30 to 9:30pm, the Escondido July 4th Celebrations would include lots of FREE entertainment. Magicians will thrill everyone with their tricks and there will be musical performance.
Bring a blanket, head to the Grape Day Park and have a picnic with your friends and family. You can buy refreshments from there. However bringing alcohol, pets, barbecues and tall chairs to the park are not allowed.
Escondido's annual July 4th Celebration has over the years pleased both adults and kids alike. It instills the feelings of patriotism and love for the great nation among people.
Old Town San Diego July 4th Celebration
If you want to experience an old fashioned kind of celebration, then head to the Old Town State Historic Park in Old Town between 11am and 4 pm. Once there, enjoy wagon rides, watch the parade, participate in period games, listen to patriotic music being played at concerts, take part in pie eating contest, enjoy delicious food and check out the crafts and activities that give a sneak peek of early San Diego.
If you happen to be on a vacation to San Diego in the first week of July, be a part of any of these events as they all promise great family entertainment.
To enjoy to the fullest your holidays in the city, consider choosing a hotel in San Diego that is centrally located. Regarded as a value price leader amongst budget San Diego hotels, California Suites Hotel is located close to Old Town, Escondido and various other tourists' destinations.
Approved by the AAA and a proud member of the San Diego's Chamber of Commerce, Facilities at California Suites Hotel include continental breakfast, cable with HBO, large warm swimming pool, free parking, wireless internet access, laundry facilities, safe deposit box and more.
Pic courtesy: kbps.org