Charming Mission Beach beckons in San Diego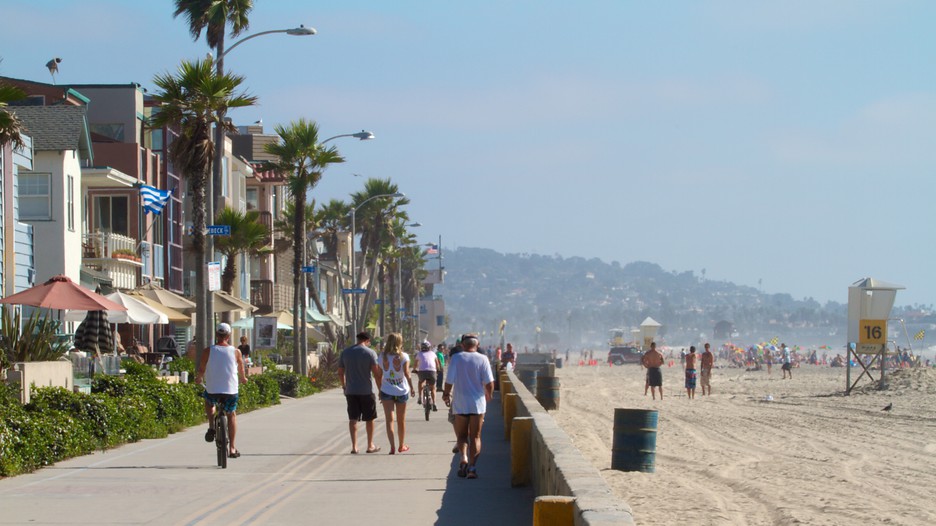 Friends, Its two miles of seemingly unending sun, white sand, and golden hue!
San Diego's Mission Beach needs no introduction for those who have been there, and well, done what almost all San Diego visitors do, bask in the sun, stroll on the sand and wade into the deep blue sea.
For the uninitiated, lets walk you down the charming Mission Beach, which hugs the shoreline between Mission Bay to the east and Pacific Beach to the north. If you are planning a beach vacation in San Diego, Mission Beach will, of course, be on the itinerary.
In fact, we always get a steady stream of visitors who come to San Diego attracted by its beaches. Since California Suites Hotel offers comfortable and affordable lodging in San Diego and is within 15 minutes from San Diego International Airport and white sandy beaches apart from famous tourist spots such as San Diego Zoo, Sea World and major shopping centers, we happen to be a favorite for tourists planning a beach vacation.
Though San Diego is known for its beautiful beaches, Mission Beach has always been a favorite hangout zone for both locals and visitors. The crowds swell in summer especially (a mid-summer sunset is a breathtaking visual delight). Some people like to simply soak in the sun as much as they can, watching as the golden ball rolls across the sky and melts down into the horizon.
Those who like to enjoy an action-packed beach vacation find Mission Beach a place of endless land and water activities – sailing, hiking, surfing, running, swimming, diving….The action never stops here!
The boardwalk at Mission Beach is a happening place, buzzing with joggers, cyclists, strollers, kids zooming along on their roller blades, and what have you.
The picturesque beach is dotted with beach cottages and apartments which are a mix of old and new styles, apart from plush condos and homes which typically sport soft pastel colors to match with the ocean. The Mission Beach lifeguard station is surrounded by shops and restaurants.
Here are some useful facts about Mission Beach, particularly if you are visiting it for the first time:
Walking, biking, and bicycling; all are permitted on the boardwalk, but speed is regulated.
Cycles with more than two wheels are not permitted except for the physically disable people.
Wheelchairs are allowed at the boardwalk. A special beach wheelchair along with an attendant is available at the main lifeguard station on a first come, first served basis. No fee is charged.
Generally beaches in San Diego experience strong rip currents. Mission Beach has an alert team of trained lifeguards who are on duty from 9:00 a.m. to dusk at the main lifeguard station. However, it is advisable not to go too far into the water and swim near a lifeguard.
Mission Beach also has a separate area specially reserved for swimming and surfing.
Public restrooms and showers are located at the commercial mall adjacent to the Mission Beach lifeguard station.
Scuba diving is not permitted at the Mission Beach due to lack of marine life.
As of January 2008, alcohol is no longer allowed on San Diego beaches.
Mission Beach is not to be missed, that's for sure! And far as affordable lodging in San Diego is concerned, we are at your service! Have a blast at the action-filled beaches and come back to the serenity of lush green gardens decked with tropical plants and flowers, fully equipped rooms, sumptuous buffet breakfast and a spacious swimming pool. Get the best of both worlds!