Experience the magic of Old Town in San Diego
Mouth-watering local delicacies, pleasing sounds of Mexican music by mariachi players, colorful shops selling unique items! That's Old Town for you.
The atmosphere at the Old Town Market Place is always festive and buzzing. There is so much to explore here that you simply can't get enough of this place.
Watching the local artists performing traditional Mariachi music and artisans demonstrating glass blowing is something you won't come across easily elsewhere.
Historical Delights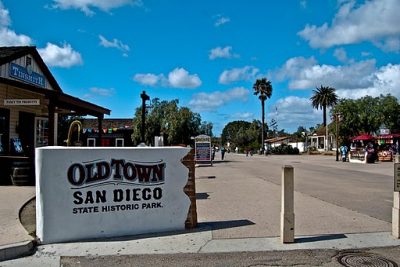 The place is also a delight for any history buff, it lazily takes you back in time. And even if you aren't a history freak, you still won't be able to stop marveling at the rich and colorful history of early California, which the OldTown reflects. There are over 15 historic sites, including the Heritage Park, Old Town State Historic Park, Whaley House, Old Town State Historic Park and plenty more. And the icing on the cake is that all the guided tours of historical buildings are free!
Old Town in San Diego is also virtual Mecca for shopping and fine dining.
Shopper's Paradise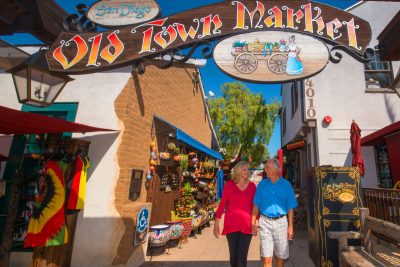 Browse around leisurely in the local shops that stock up an awesome variety of Mexican handicrafts, artistic handmade jewelry, sun powered products, authentic hand made leather, home decor in vibrant colors and much more. It's an ideal place to pick up some amazing and unique souvenirs for yourself and your friends and family. In fact, the items displayed in these shops are so tempting that they are really hard to resist.
For Authentic Mexican Cuisine
If you are a foodie, then Old Town is the best place to try out authentic Mexican cuisine. Its exciting array of restaurants offer delectable traditional Mexican delicacies. In some restaurants, you would even find waitresses serving you all dressed up in typical Mexican attire.
When in San Diego, don't forget to tour the lively and vibrant Old Town, which still retains much of its pristine charm. To explore the Old Town conveniently at your pace, book your stay in California Suites Hotel which located not very far from Old Town. You don't need to look for cheap motels in San Diego or San Diego Vacation Rental. With us, you will get the services you are looking for at budget prices.