Holiday Bowl – 2012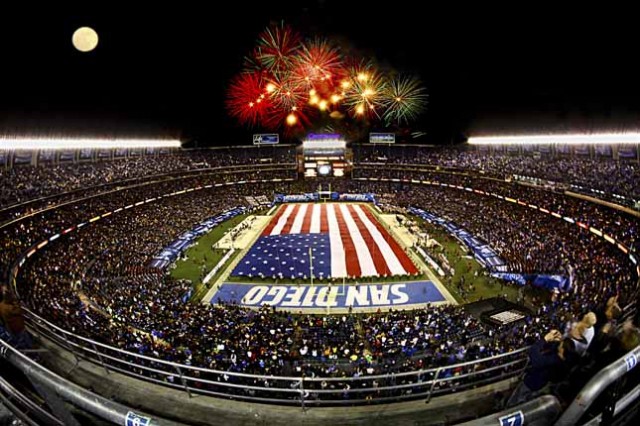 A shout-out to all the football fans! The much awaited and hugely popular Bridgepoint Education Holiday Bowl is back with a bang!
All set to take place on December 27, 2012 at the Qualcomm Stadium; the Bridgepoint Education Holiday Bowl attracts hundreds of football lovers each year.
This time too, it is expected to receive huge crowds. The game will also be aired nationally on ESPN.
The Bridgepoint Education Holiday Bowl is not just about football. There is lot more to it. Enjoy great food and lots of wine and beer. Not to forget formidable performances by the college bands and cheerleaders.
These private performances will be held in section F-1 of the Qualcomm Stadium parking lot from 4:15pm to 6:15pm. To enjoy alcoholic beverages, you must be 21 years of age and carry your proof of age.
Parking
If you plan to drive from your hotel, try to come as early as possible as the parking lot fills up fast. Parking charges for the Holiday Bowl are $20 for cars and $60 for RV's.
Best way to avoid parking woes is either you carpool or come in  a bus or use the San Diego Trolley.
For VIP parking, you will have to dish out $60. VIP parking is limited which includes a secure space inside the main gates of the stadium. VIP parking pass will ensure that you get parking spot no matter what time you arrive at the stadium.

Visitors coming on a San Diego family vacation during December can add Holiday Bowl event to their itinerary. It is a fabulous event for all age groups.
San Diego accommodation
Which is the one thing that you would certainly want in your hotel when you come to San Diego during holiday season? Apart from all the necessary facilities, one thing which visitors at times overlook is the location of the hotel. Choose a San Diego hotel that is centrally located.
Located at Clairemont Mesa Blvd, California Suites Hotel is nearby to Qualcomm Stadium and various other attractions in the city.  Its central location, makes it convenient for guests to commute to different tourist destinations.
Being an AAA-approved and a member of the San Diego's Chamber of Commerce, California Suites Hotel is a Value Price Leader among San Diego budget hotels. It offers continental breakfast, free parking, Internet access, laundry services and more. To make San Diego vacation more affordable for budget travelers, California Suites Hotel is also offering tempting discounts till 31st January, 2013.
Known for impeccable services and hospitable staff, California Suites Hotel also provides affordable extended stay packages. Our hotel's extended stays provide home away from home kind of atmosphere which is Convenient, Comfortable and Affordable.
Whether you like football or not, do attend Bridgepoint Education Holiday Bowl.
Photo Courtesy: blog.sandiego.org