MCAS Miramar Air Show 2012: Fasten your seatbelts!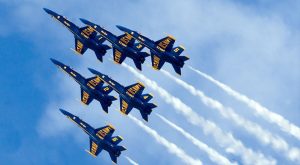 The US military air show is one of the largest and most spectacular air shows that honor the US military, and one of the most spectacular events in the San Diego calendar.
Set to take place from 12th to 14th October 2012 at the Marine Corps Air Station in Miramar, the 3-day MCAS Miramar Air Show lets you watch some spellbinding display of courage and skill. This year, the US Army Golden Knights, regarded as the world's best parachute team, will bring the skies alive with their breathtaking aerobatic displays.
The US Navy Blue Angels are also set for a dazzling spectacle. At the MCAS Miramar Air Show, you get to see military performers from all branches of the United States Armed Forces as well as civilian performers performing in front of a huge audience.
Other performances include F/A-18 Super Hornet, AV-8B Harrier and more and the Great Wall of Fire event is mentioned in the "Guinness Book of World Records" in 2000 for "Longest Wall of Fire". The MCAS Miramar Air Show is a complete entertainment with extravagant fireworks and astonishing performances.
Don't miss it! Entry is FREE to the event. Try to arrive early to avoid long queues. Day show performances begin from 9:00am to 4:00pm and the twilight show on Saturday will take place from 5:30pm to 9:00pm.
You can bring your blanket, sit in an open paved area and watch the show. Preferred seating areas are open for paid admission only. If you are coming to San Diego for holidays, do attend this event. As far as lodging in San Diego is concerned, there are plenty of hotels which provide good facilities at affordable prices.
California Suites Hotel is one of the leading San Diego budget hotels which is located right in the heart of San Diego. From the hotel, you can commute easily to Miramar and most of the popular tourists destinations such as Balboa Park, Old Town, La Jolla, Gaslamp Quarter and lots more.
Approved by the AAA and being a proud member of the San Diego's Chamber of Commerce, the California Suites Hotel is renowned for its fine services and hospitable staff. Our services include continental breakfast, large heated swimming pool, cable with HBO, high speed Internet access, free parking, laundry facilities and more.
Even if the weather does not behave, the MCAS Miramar Air Show is every bit worth attending.
Photo Courtesy: fleetweeksandiego.org