Double the joy of your San Diego beach vacation with Beer-Con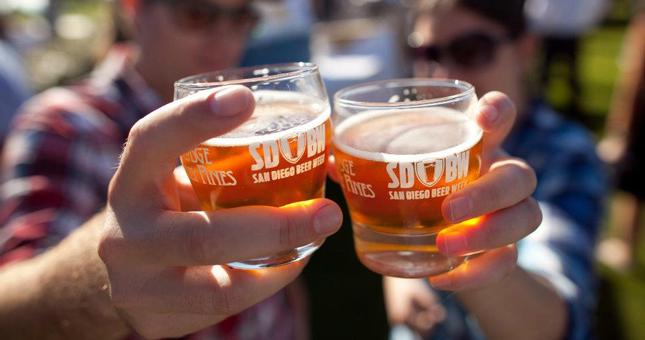 Two fascinating days featuring brewery tours, talks, tastings, food Pairings, and a new location closer to Downtown!
Enjoy your extended stay San Diego with Beer-Con beer conference to be held on August 24 and 25, 2012 at 57 Degrees, Downtown San Diego.
Beer-Con was born out of the pure love for craft beer. This is a conference by, and for beer lovers! For the first time ever the greatest minds and palates in craft beer have a platform to come together and share their passion! Beer-Con 2012 is a conference held in beautiful San Diego that will feature some of the top names in the industry speaking on a variety of topics!
Multiple speaking tracks will run simultaneously throughout the day so that you can choose the experience that is right for you. This event is open to the public, no professional association or credentials required!
At Beer-Con you'll get exclusive access to industry pros, get answers to the questions you've always wanted to ask, learn about brewing and tasting beer from the best in the business and of course join other beer lovers for a few brews at our Tap Haven where you'll enjoy a special line-up of craft taps!
There will be two route options – both of which will visit 3 breweries and then end at the new Rough Draft location for the Friday kick-off party. You will get a total of 12 taster tickets. It's up to you, how many you use at each brewery. But once you're out, it's on you to buy additional tasters.
The range of tasters available for the visitors includes Firestone Walker Brewing Co., Hangar 24 Craft Brewery, Iron Fist Brewing Company, Stone Brewing Co., Sierra Nevada Brewing Co., Coronado Brewing Co., The Beer Co. San Diego, Lightning Brewery, The Lost Abbey, Port Brewing, Ballast Point, Societe Brewing Co, and North Coast Brewing Co.
Come be a part of the craft beer movement.
Make the most of this event without bothering about the accommodation in San Diego. California Suites Hotel is the best option for affordable San Diego lodging. We take pride in announcing that California Suites Hotel is approved by the AAA and is a proud member of the San Diego's Chamber of Commerce.
California Suites Hotel is appreciated for its unmatched services and hospitality. Our list of premium services include continental breakfast, large heated swimming pool, cable with HBO, high speed Internet access, free parking, laundry facilities and more.
Share your passion, join the discussion and tip back a few tasters at Beer-Con 2012! We will see you there.
Photo Courtesy: localdeal.com