San Diego hosting creative fun Events this September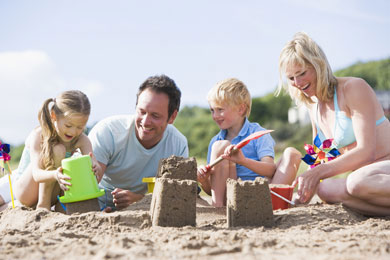 Looking for some fun activities on your San Diego family vacation?
Don't miss these two fun filled events lined up for September 2012, which call for an extended stay in San Diego.
US Sand Sculpting Challenge and 3D Art Exposition
The U.S. Sand Sculpting Challenge and 3D Art Exposition is open to the public from 9am to 7pm on Labor Day weekend, August 31 – September 3, 2012, at 'B' Street Cruise Ship terminal Pier, Downtown, San Diego.
Come, watch some of the world's top sand artists create sculptural masterpieces the likes of which have never before been seen in San Diego.
What an experience – On three sides surrounded by San Diego's Big Bay and on the 4th, downtown's sandcastles in the sky. You and your family can watch sculptures being gently carved by master artists from Italy, Portugal, the Netherlands and Canada, as well as California.
Enjoy dimensional art from leading West Coast artists who work in metal, glass, resin, clay, wood, leather, fabric and gemstones, while tall ships pass majestically with hoisted sail in full regalia. Check out the fascinating large pile sand sculpture with over 100 tons of sand. And walk out on the pier for the best view of ships cruising the Big Bay in all of downtown.
49th Annual Cabrillo Festival
Be a part of history and welcome 16th century explorer Juan Rodriguez Cabrillo as he steps ashore on Ballast Point, Sunday, September 30, 2012.
The Cabrillo Festival is a fun event for the entire family, with educational activities, cultural demonstrations and exciting folkloric performances. Brightly colored clothing and dramatic music and dancing bring to life the traditions of the Native American, Mexican, Portuguese and Spanish cultures that are part of the Age of Exploration.
The Cabrillo Festival features food booths with delicious traditional Mexican, Native American, Portuguese and Spanish food. Vendors will showcase their various artistic goods. The highlight of the Cabrillo Festival is the re-enactment of Cabrillo's landing on the shores of San Diego Bay.
"Cabrillo," his soldiers and a priest sail into the bay on San Salvador (The Californian), and once again claim the land for Spain. Amy Daneke Miss Cabrillo Festival 2012 was born in Fresno, California and attends San Diego State University. She will represent the Cabrillo Festival at events in Ensenada and San Diego during Cabrillo Festival Week.
Accommodation in San Diego – For some good quality San Diego lodging, go for San Diego's Value Price Leader, California Suites Hotel. Just 15 minutes away from the airport as well as the best known attractions of this beautiful city, the California Suites Hotel leads San Diego budget hotels in offering services at competitive rates.
Approved by the AAA and a proud member of the San Diego's Chamber of Commerce, the California Suites Hotel offers continental breakfast, large heated swimming pool, cable with HBO, high speed Internet access, free parking, laundry facilities and more.
The biggest advantage is that the hotel is close to almost all beaches and other top attractions as well such as Old Town, Sea World, Balboa Park, La Jolla, and shopping centers. Mark your presence in either or both of these events detailed above and make the most of your San Diego beach vacation.
Sources include:
cabrillofestival.org
ussandsculpting.com