The Adventurous Side of San Diego!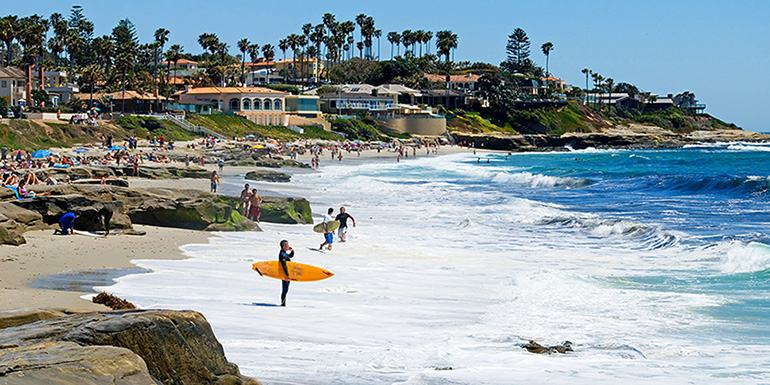 For those who love the outdoors, San Diego is the place to be. From swimming to surfing, from camping to hiking, from scuba diving to snorkeling – San Diego has plenty to keep you busy. If you are planning to spend your vacation in San Diego, leave space in your itinerary to include all the exciting and adventurous stuff you can do in this beautiful city.
Just as San Diego has loads of exciting things to do for the adventure seekers, it also offers an awesome choice of vacation rentals and hotels and motels to suit all kinds of budgets. Check out some affordable vacation rentals in San Diego as you draw up your itinerary of adventure sports.
Here is a preview of what all you can do on a San Diego vacation:
Fun on the Ocean
Sunbathing: As the city is located over the San Diego Bay, water sports are quite popular here. The white sandy beach hugs the shoreline for a long 19 kms offering everyone plenty of opportunities to do their kind of thing. You can enjoy a perfect sunny day all alone or in the company of your friends and family.
Surfing: Of all the beaches, Torrey Pines State Beach is the most popular one amongst local people and visitors. Surrounded by sandstone cliffs, this is the very place where surfers love to spend hours amidst nature.
Scuba Diving and Snorkeling: Then there is the Torrey Pines State Reserve where you can explore rugged terrains without the help of marked trails. La Jolla Cove located near the Underwater Park Ecological Reserve is the most visited place for activities like scuba diving and snorkeling near the cliffs.
If you want to get a glimpse of the old world charm of the 19th century, Old Town San Diego State Historic Park offers a delightful experience.
Adventures on Land
Hiking and Climbing: Spread over 5,800 acres of land, Mission Trails Regional Park is quite popular amongst hikers and climbers who love to see the Cowles Mountain.
Horse Riding and Biking: The Mission Trails Regional Park also offers horse riding and biking trails.
Boating and Camping: Facilities are also available for boating and camping within the boundaries of the Mission Trails Regional Park.
Along with these, there is a lot more to experience in San Diego. When planning a trip to this adventurous land, come with some time on your hands to fully explore and experience the varied delights of this place.
There is a wide range of budget hotels in San Diego which offer affordable vacation rentals. In fact, you don't need to hunt for cheap motels in San Diego. If you are a budget traveler, look up some good quality budget hotels in San Diego that offer affordable vacation rentals and complementary breakfast. They are easy on the pocket, offer reasonably good service and the free breakfast saves you a tidy sum.