5 Tips for Hotel Security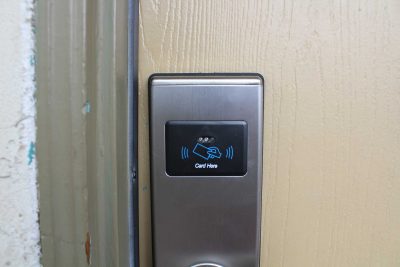 Security lock in California Suites HotelGood security is good service. This line seems to be becoming more popular with hotel management worldwide as the tourism business and related industries grow more robust. For many travelers, the hotel room becomes a sanctuary for rest and relaxation. We at California Suites Hotel understand that. It is why we make sure that our guests sleep as safe and comfortable as if they were in their own homes.
Of course, we work in concert with our guests in order to provide the maximum security possible. Here are a few tips that help increase your own security substantially when staying in a hotel.
Make judicious use of the Do Not Disturb sign. It fools unauthorized people who want to enter through your door into thinking the room is occupied. It is a well-known deterrent however.
Choose a safe hotel in the first place. Many of the smaller establishments do not have security services and rely on technology only.

California Suites Hotel is just a couple of miles away from the San Diego Police Department; that's a 10-minute drive. It's also just a hop and a skip away from a California Border Patrol facility.

Keep your keys with you all the time and make sure your doors are of solid make. If you are not sure about the hotel you're booked in, bring your own portable lock.
Keep track of your belongings. Don't leave valuable objects around your hotel room. If possible, make copies of important documents or bring documentation for your valuables. Jewelry, for instance, is one of the most difficult to recover once lost.
This last one is basic security that you do in your own home anyway: check doors and windows before you go to bed.
Our hotel staff is always ready to answer questions and alleviate concerns. We value your safety.