San Diego Suites Newly Renovated Conference Room!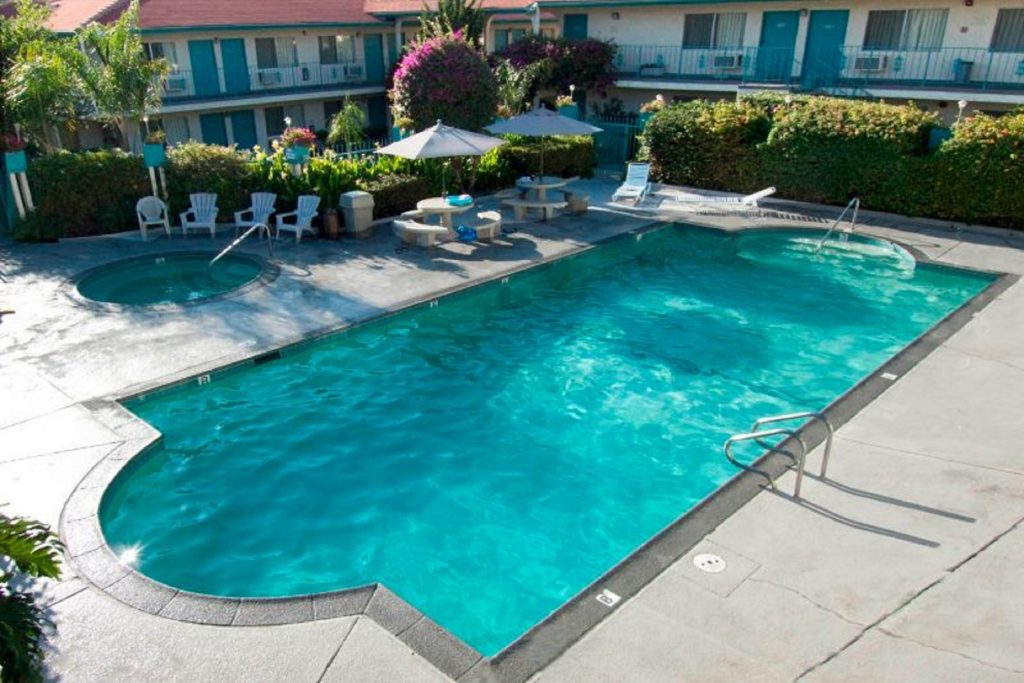 California Suites Hotel has long boasted some of the finest accommodations in San Diego, and they just got even better: We're proud to announce the unveiling of our brand-new conference room!
The lovely and expansive new space makes our hotel the perfect destination for group meetings, seminars, work retreats, and other organized stays—all the more so when you consider it in the context of all our other amenities and services.
Our New Conference Room—and Revamped Swimming Pool!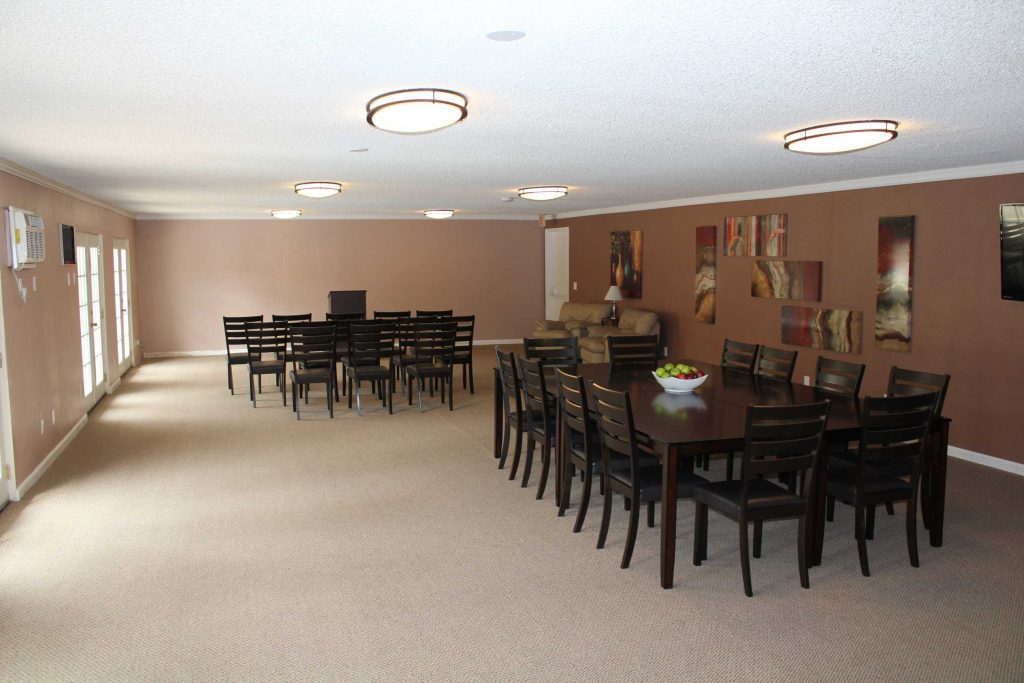 The fresh-minted California Suites Hotel conference room has the generous square footage and the vital equipment—including numerous chairs and tables available for use, plus plenty of electrical outlets—to accommodate a whole range of events and activities.
Sheer space and infrastructure set the stage for productive sessions, it's true, but here at California Suites Hotel we know that aesthetics and environment both make their own crucial contribution. On those counts, too, our new conference room really hits the mark. It's a wonderfully attractive facility with soft (but ample) illumination, plentiful wall art, and elegant white French doors that spill plenty of sunbeams and natural light into the room. All of it contributes to the sort of warm, comfortable ambience you want for meetings, presentations, and work breakouts.
Not only that, but those French doors overlook the gorgeous little-slice-of-paradise spread of our newly renovated swimming pool. The sprawling rectangular heated pool casts a mighty tempting spell given San Diego's deliciously sunny year-round weather. The poolside accouterments include plentiful deck chairs, umbrella-shaded tables, and a separate warm soaking-style spa tub, not to mention the glossy palms and other luxuriant vegetation that lend the entire California Suites Hotel grounds a tantalizingly tropical flavor.
Having that pool paradise through the windows as its backdrop ramps up the appeal of the California Suites Hotel conference room even further. When the day's scheduled itinerary comes to a close—or maybe in between morning and afternoon sessions—your attendees are sure to appreciate being able to take a relaxing soak in the spa tub's bubbling waters, or just kick back on the deck and bask in that glorious Southern Californian sunshine.
The Full Package at California Suites Hotel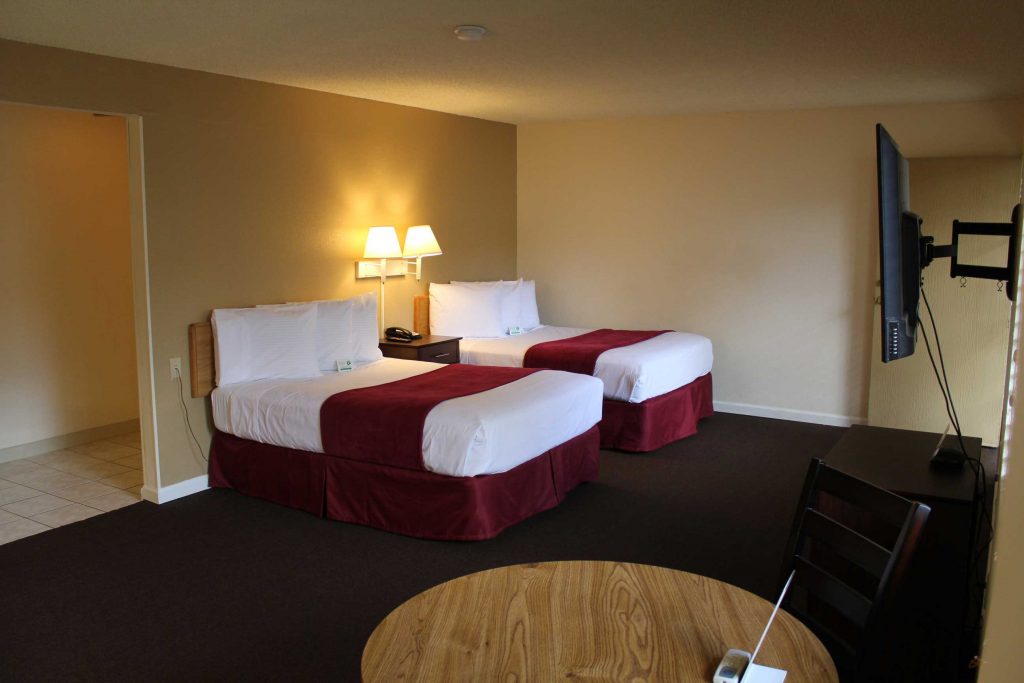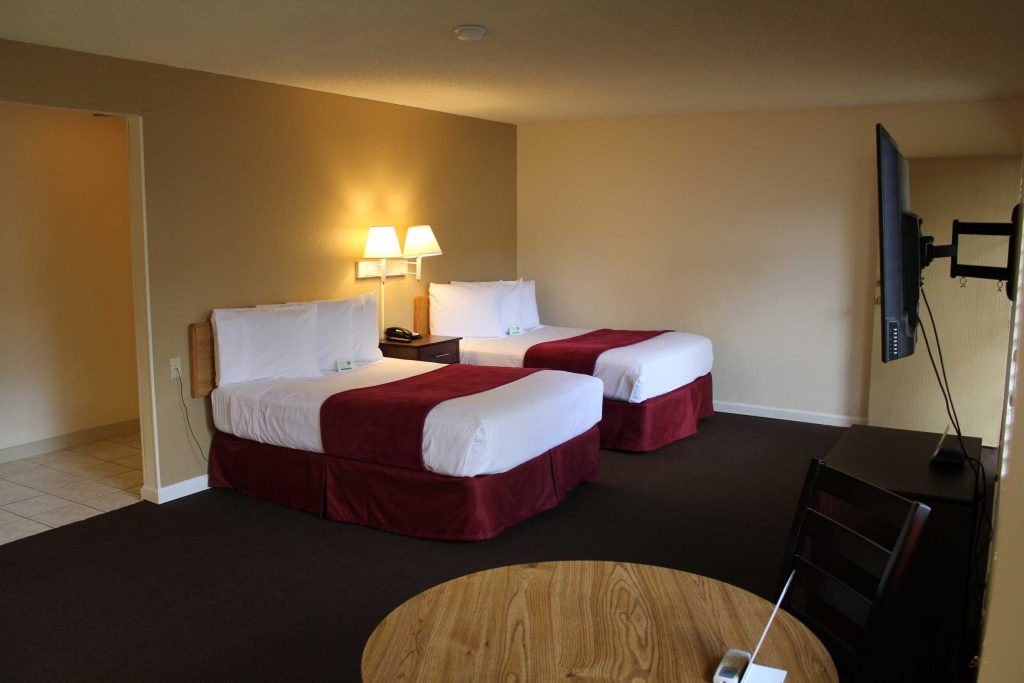 Here at California Suites Hotel, we couldn't be more excited about the one-two punch of our freshly unveiled conference room and our newly renovated outdoor pool, and we know our guests will appreciate these upgrades. Consider our high-value hotel for your event or group retreat, though, and the conference space and all that poolside R&R won't be the only features you'll be able to take advantage of.
Our hotel—which offers corporate rates, incidentally—also provides onsite laundry facilities, a safe-deposit box, high-speed Internet in every room, and complimentary breakfasts to inspire a full day's worth of engaged and constructive work—plus the complimentary daylong coffee, tea, and fresh fruit you need to keep fueling it!
And our beautiful, well-appointed guestrooms all include a satellite TV, a refrigerator, and a microwave, plus the option of using a convenient in-room two-burner stove top. Between these decked-out accommodations, our many onsite services, and our lush, pond-, pool-, and palm-bedecked landscaping, you couldn't ask for a better San Diego headquarters!
There's so much to do in greater San Diego, and California Suites Hotel sets you up with an incredibly convenient launch pad from which to enjoy the metro area's world-famous attractions. The San Diego Zoo and Safari Park, the USS Midway Museum, Lego Land, Balboa Park's museums and gardens, an incredible spread of restaurants, microbreweries, and wineries, plus truly gob-smacking Pacific beaches from La Jolla out to Coronado Island—it's impossible to run out of things to do in America's Finest City.
Given the caliber of those destinations, the near-perfect across-the-calendar weather, and the scenic splendor of the Southern Californian coastline, it's no surprise San Diego's such a popular place for meetings and gatherings of all stripes. If you're looking for an establishment that combines luxurious lodgings with a topnotch conference room for your event, you've found it with California Suites Hotel! Get in touch with us today.